New MBF Bioscience Customer Support Options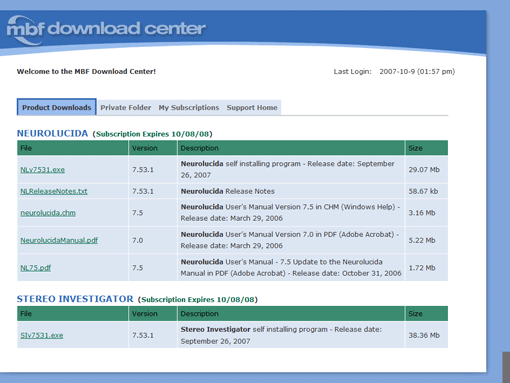 If you've visited the support area of our website, you've seen some changes. Recently, we revamped the entire website support structure to streamline our response to user needs. What's new? Easier to use and more responsive, our improved Support Center puts you in charge. We've put together this quick reference highlighting the changes. The first thing you'll notice is a streamlined web page. Enter your User ID and Password and you're at your own Support dashboard.
Drive Your Support From the Dashboard
From the Support dashboard, you'll have access to our Knowledge Base of questions and answers as well as direct contact with our support staff. You can view the status of pending support tickets or open a new issue.
Submit and Track Your Own Support Tickets, 24/7
You can now submit your own support tickets and view them around the clock. Click Submit Support Request and fill out the concise form. Just describe your problem and attach any files you think are necessary. Your request is immediately routed to the MBF Bioscience support team who analyze and respond to your query. Every time a member of the team addresses your ticket, you'll receive an e-mail alerting you to our progress. You can check the status of a ticket at any time—even outside of our business hours. "The new system will ensure we track a customer request from the initial contact through resolution," said Russ Barnes, MBF Bioscience Manager of Technical Support. "We can instantly see where the request is in the system."
Get Your Software Updates Through the Download Center
Our new Download Center is convenient and easy to use. Using the tabbed interface, you can read about and download your purchased MBF products and third-party software. There's a Private Folder you can use to send files to MBF Bioscience, or receive private downloads from the support team. You can find information about your support subscription via the My Subscriptions tab. It gives you access to all software updates available under your support subscription.
Find Answers in the Knowledge Base
Another piece of the new Support Center, the MBF Bioscience Knowledge Base, contains short articles on using our software. There are also answers to common user questions, instructions for dealing with stubborn equipment, and other important information.
First published in The Scope, fall 2007.