INCF endorses the MBF Bioscience neuromorphological file format
We are pleased to announce that the International Neuroinformatics Coordinating Facility (INCF) has endorsed the MBF Bioscience neuromorphological file format as a standard.
The file format is used in our products for neuroscience research for important applications such as digital neuron tracing, brain mapping and stereological analyses. MBF Bioscience products, including Neurolucida, Neurolucida 360, Stereo Investigator, Vesselucida 360, and NeuroInfo use this neuromorphological file format.
This file format has evolved over several decades through input and requests from many scientists who've been using our products. The current format is truly a collaborative effort between MBF and our users.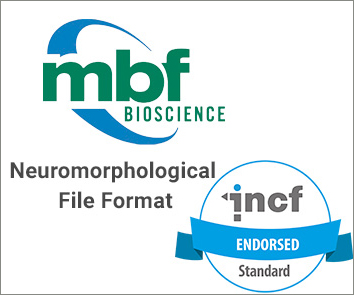 "We are very pleased to have received this endorsement from the INCF. It recognizes our ongoing efforts in supporting open and FAIR neuroscience, and our commitment to supporting neuroscience researchers. We've established rigorous standards and processes for the file format so that it can be confidently used by the entire research community", said Jack Glaser, President of MBF Bioscience.
What does this mean for researchers who use MBF products? It expands opportunities for data sharing between individual researchers, laboratories, and within larger collaborative research initiatives. Also, it will be easier for third-party software tools to be developed and maintained that extend the usefulness of the data generated by MBF products.
The official INCF announcement stated, "The committee is pleased to see an open format from a commercial entity go through the endorsement process, and applaud MBF Bioscience for taking this very important step in support of open and FAIR neuroscience. The committee considers the governance process for MBF Bioscience's neuromorphological file format to be well elaborated, with a sufficient mechanism for the user community to request format updates."
MBF Bioscience and the INCF will work together to further improve the FAIRness of the standard, including implementation of the governance policy and modification of the standard's license from the CC-BY-ND-NC to a CC-BY-ND.
The standard number is INCFSN-22-01.
Read the review report, with community feedback in comments: https://f1000research.com/documents/10-712
Read the full INCF endorsement here: https://www.incf.org/blog/incf-endorses-mbf-neuromorphological-file-format
Read a recent publication on the format:
A.E. Sullivan, S. J. Tappan, P. J. Angstman, A. Rodriguez, G. C. Thomas, D. M. Hoppes, M. A. Abdul-Karim, M. L. Heal & Jack R. Glaser. A Comprehensive, FAIR File Format for Neuroanatomical Structure Modeling. Neuroinform (2021). https://doi.org/10.1007/s12021-021-09530-x