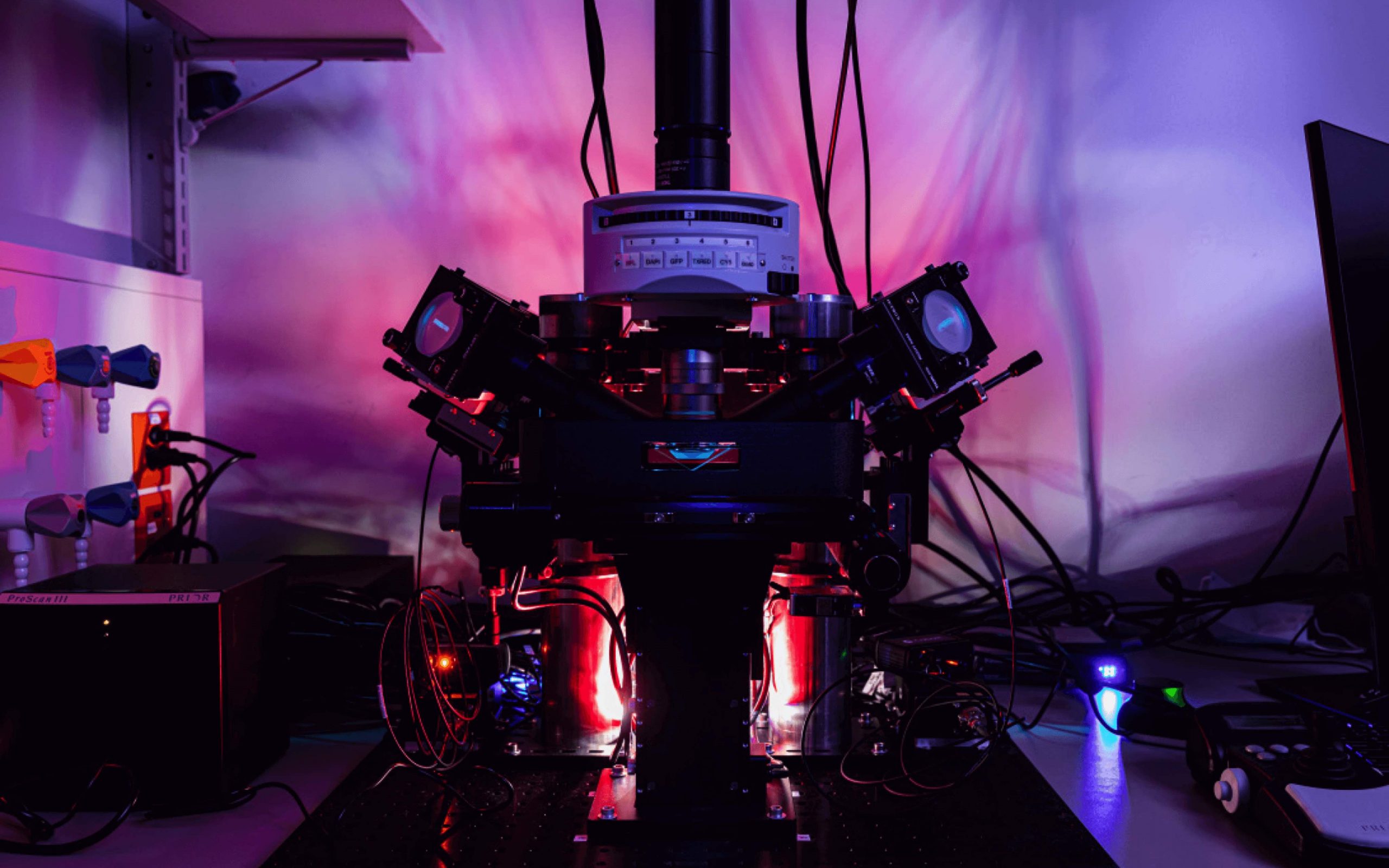 MBF Bioscience Secures Exclusive License from Columbia University to Create New Light-Sheet Microscope System
For Immediate Release:
Williston, VT (February 04, 2020) — MBF Bioscience's revolutionary light sheet microscope system, ClearScope, sets a new standard for microscopic imaging.
The new decade is poised to bring about incredible scientific innovations, and MBF Bioscience is leading the charge in 2020 with the creation of the "light sheet theta microscope" system, ClearScope.
MBF Bioscience secured exclusive license from Columbia University to develop the light sheet theta microscope technology invented by Dr. Raju Tomer. This patent-pending technology in ClearScope leap frogs a number of inherent limitations of other light sheet microscopes. ClearScope will be commercially released this year.
ClearScope performs high-resolution, 3D imaging of intact, cleared specimens that are larger than any other light sheet microscope is capable of imaging. The technology permits fast imaging speed, high- quality imaging and low photo-bleaching. With the exclusive dual, oblique light sheets providing homogeneous illumination, MBF Bioscience has created a microscope system superior to all existing commercial light sheet microscopes. It is compatible with tissue clearing techniques including CLARITY, uDISCO, SeeDB, Scale and Binaree.
President and co-founder of MBF Bioscience, Jack Glaser says, "Dr. Tomer's, revolutionary design of light sheet theta microscopy, and the new capabilities it provides, will have a dramatic impact in scientific research. We are excited to bring this technology to market in ClearScope. "
Dr. Raju Tomer, assistant professor of biological sciences at Columbia University says, "I am very excited about the licensing of our light sheet theta microscope technology to MBF Bioscience for developing a robust and user-friendly ClearScope product. This technology has clear potential to revolutionize high-resolution, quantitative imaging of very large cleared samples. It will also be a valuable instrument for dynamic imaging of live specimens. I think MBF Bioscience, with its extensive expertise in neuroscience imaging and data analytics, is a natural partner to take it beyond a lab instrument stage, to benefit the scientific community at large."
With the ability to image cleared tissue of virtually any XY size, ClearScope has the ability to completely revolutionize the way researchers image and collect data of tissue specimens. ClearScope image data can be analyzed with MBF's flagship software solutions, Neurolucida 360, Vesselucida 360 and Stereo Investigator.
To learn more about ClearScope visit: www.mbfbioscience.com/clearscope
About MBF Bioscience: MBF Bioscience integrates the world's leading microscope systems with our revolutionary quantitative imaging and visualization software to accelerate research in the fields of: stereology, neuron and microvasculature reconstruction, vascular analysis, worm tracking, brain mapping and big image data management in medical research and education.
Since 1988, MBF Bioscience has forged a rich history of creating innovative products to empower biological researchers with the quantitative analysis tools they need to obtain accurate, unbiased results. With offices in North America, Europe, Japan, and China, MBF Bioscience has helped researchers across the globe publish over 15,000 peer-reviewed papers in peer reviewed journals. MBF Bioscience partners with the NIH and distinguished scientists across the world to continue their commitment to neuroscience research with their software technology, and also in the fields of stem cells, pulmonology, oncology, and toxicology. For more information visit www.mbfbioscience.com or follow MBF Bioscience on Facebook, Twitter, and LinkedIn, or compete in our image contest at www.neuroart.com
###
Media Contact:
Pasang Sherpa
Marketing Manager
1-802-288-9290/ pasang@mbfbioscience.com