We're Kicking off a Year of Celebrations in Honor of the Computer Microscope's 50th Anniversary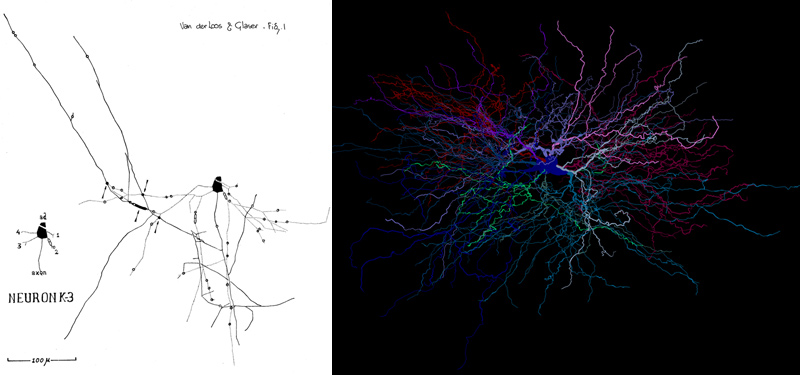 In the early 1960s, our company co-founder Dr. Edmund Glaser and his long time collaborator and friend Dr. Hendrik Van der Loos made some sketches on a paper tablecloth in the faculty dining room at John Hopkins Hospital, in Baltimore Maryland. That early diagram of a microscope included novel elements like transducers and a mechanical stage, and gave shape to their ideas about a faster way to conduct neuroanatomical research. It also laid the foundation for what was to become the first Semi-Automatic Computer-Microscope.
Next year marks fifty years since the invention of that revolutionary tool – a technologically advanced microscope, which sped up quantitative analysis, gave researchers the ability to create three-dimensional morphologies of neurons, and led to the development of some of MBF Bioscience's most in-demand products, Neurolucida, Stereo Investigator, and Microlucida.
In honor of the occasion, we're kicking off a year of celebrations starting next week at Neuroscience 2012. We'll also be publishing photographs, slides, and stories about the microscope's history throughout the year on our blog. We hope you'll follow along, and join us in celebrating the 50th anniversary of the Semi-Automatic Computer-Microscope.
{The image shows one of the early neuron tracings done on the Semi-Automatic Computer-Microscope alongside a recent reconstruction of a neuron done with Neurolucida. Click on the image for a larger view.}