Integration with the CARV II and Qioptiq OptiGrid
We are pleased to announce that we have added support for two leading confocal devices for microscopy. The CARV II and the Qioptiq OptiGrid are now completely integrated with the MBF family of software solutions. These devices enable Stereo Investigator to perform stereology in a confocal environment and allow Neurolucida, AutoNeuron, and Virtual Slice to benefit from better visualization due to the thin depth of field.
Both devices are microscope independent; there is no need to worry about losing the investment you already have in your current working microscope. You can integrate the microscope of your choice. This means added support for acquisitions of multichannel images, image stacks, and virtual slides.
The CARV II (pictured above), currently offered by BD Biosciences, includes a spinning disk with multiple sets of pinholes arranged in a spiral and placed in the image plane of the objective lens. According to the product web site, "the column of excitation light is projected through 1,000 pinholes to simultaneously scan the entire field once every millisecond, thereby creating a full image of the focal plane in real time."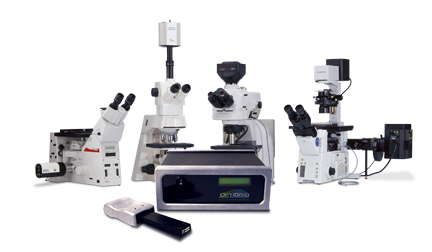 The Qioptiq OptiGrid Structured Illumination Microscopy system affords "benchtop access to confocal-quality imaging right from the convenience of your own lab." It enables multichannel fluorescence and real-time 3D imaging with a lower cost. The OptiGrid also integrates standard illumination and operation with much of your existing instrumentation and software. Programmable focus and experiment automation mean simpler multi-channel imaging.
First published in The Scope, fall 2008.