Dual Monitor Setups: Looking at the Big Picture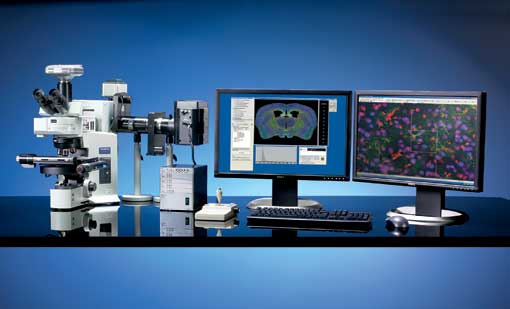 When it comes to your computer, you can never have enough memory or storage. And when working with digital images, add more screen space to that wish list. One solution—you could buy a larger monitor. But if you're using Windows XP or Vista, think about adding a second monitor instead.
A second monitor not only gives you more viewing area, but you'll gain greater efficiency and improved workflow. Using feature-rich software like Neurolucida and Stereo Investigator sometimes means a screen packed with toolbars, special views, and multiple image files. Both Neurolucida and Stereo Investigator support a dualmonitor setup through Windows XP/Vista. No update or special download is required.
WHAT CAN A DUAL-MONITOR SETUP PROVIDE?
A dual-monitor setup allows you to move frequently used toolbars, such as Focus Position Meter, Image Acquisition and the Orthogonal View to the second monitor, freeing up screen space so you can work with your tracing or sample on screen.
You can also open Microsoft Excel or other applications in the second monitor so you can view and work with your results while viewing the image at the same time.
You'll be able to see images better by stretching them across two monitors, or compare images with greater ease by opening two different files on each individual monitor.
And finally, you can run your monitors at different display resolutions. For example, you could run your main monitor at 1920 x 1220 for a live video feed, and run the second monitor at 1024×768 for the Lucivid.
WHAT DO I NEED?
Many newer computers already support dual monitors. See if yours has two VGA or two DVI connectors
or one of each. A single connector requires an upgrade. Having a dual monitor setup will forever change your workflow. You'll wonder how you accomplished your studies with just one monitor.
First published in The Scope, summer 2007.