MBF Bioscience and the Journal of Neuroscience Research to award NeuroArt contest winners with placement on the journal's covers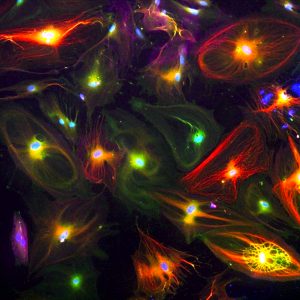 MBF Bioscience and the Journal of Neuroscience Research announced today that beginning this month, the Juror's Choice winner in the NeuroArt image contest will be featured on the cover of the Journal of Neuroscience Research. Winners also have the opportunity to publish an editorial article or a research paper in the journal. A Juror's Choice Award winner is chosen each month by an interdisciplinary panel of neuroscientists and artists.
"Partnering with the Journal of Neuroscience Research to offer this award fits perfectly with the mission of NeuroArt, which is to recognize and foster appreciation for the visual beauty and the aesthetic qualities of Neuroscience," said Jack Glaser, President of MBF Bioscience.
The NeuroArt image contest is a creative outlet where neuroscientists and neuroscience enthusiasts can share their views of the brain and learn from each other  ̶  a sentiment that resonated with Dr. Eric Prager, Editor-in-Chief of the Journal of Neuroscience Research. "It seemed timely to feature these images on the cover of Journal of Neuroscience Research as the journal enters an era focusing on transparency in research," said Dr. Prager. "The works of art will provide artistic interpretations and representations of neuroscience and the brain, which we, the audience, can internalize and interpret from our own perspectives. In research, we also strive for each article to provide the elements necessary for other researchers to reexamine from their own perspectives. It was a natural fit."
Even if you don't have an image to submit to the contest, you can still participate by voting for your favorite image. The image with the most votes at the end of the month wins the People's Choice Award and $250 towards the purchase of MBF Bioscience products.
To enter this month's contest, or vote for an image, go to neuroart.com
Over 100 images have been submitted to the contest since it started February 1, 2017, and there have been 12 winning images. Here's what some NeuroArt participants have to say about the contest:
"It's a great opportunity to share some very interesting images I've taken."
"Fun, creative outlet and a place to share images with colleagues."
"I learned something new about neuroscience. I saw something that I did not expect to be beautiful in an image."