MBF Bioscience Unveils Redesigned Interface for Neurolucida and Stereo Investigator version 2017
Neuroscientists can now analyze the size and complexity of neurons and collect unbiased stereology data with greater speed and efficiency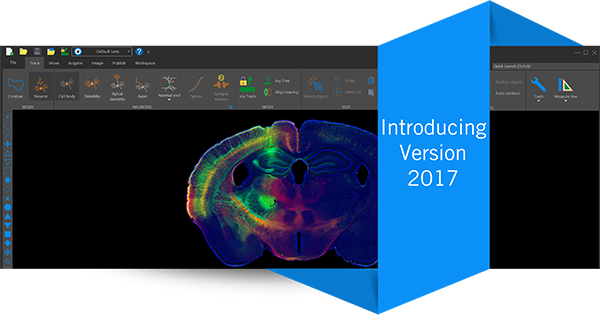 We are happy to announce the release of Neurolucida and Stereo Investigator version 2017. This version features a completely revamped user interface that's intuitive and easy to navigate.
"Neurolucida and Stereo Investigator version 2017 are completely redesigned to improve the user experience and increase productivity," said Jack Glaser, President of MBF Bioscience. "The new interface makes collecting accurate data much quicker and easier."
Version 2017 has many new performance features in addition to the new user interface. It handles large image data more efficiently, gives users the ability to dynamically edit digital reconstructions in an interactive 3D environment, and much more. Neurolucida users will also see many improvements to Neurolucida Explorer – the companion software to Neurolucida that performs all the quantitative analyses generated from neurons that are digitally reconstructed with Neurolucida.
Highlights of Stereo Investigator and Neurolucida version 2017 include:
Easier Navigation – The ribbon bar design is task-oriented to make it easy to find what you need. A dynamic search bar and a quick access toolbar also aid productivity.
Improved Organization – Frequently used tools are prominent and easy to access. Tools are grouped by their function, and advanced settings are easily accessible.
Cleaner and simpler – The new user interface is modern and intuitive, making it easier to learn and to train new lab members.
Support for the latest technological advancements in microscopic imaging devices and computer hardware.
See version 2017 in action
MBF Bioscience will exhibit and demo Neurolucida and Stereo Investigator version 2017 at the annual Experimental Biology meeting April 23 – 25 in Chicago, Illinois.
Get a quick overview of the new user interface in these 2-minute videos:
Register for the upcoming webinar "Using the Optical Fractionator Probe to Estimate Number of Cells"