Neurolucida 360 v2.7: A minor release with major new features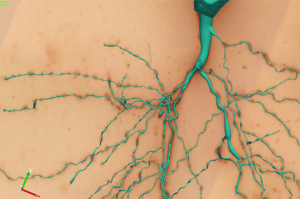 The 3 algorithms in Neurolucida 360 were used in combination
to create a smooth, accurate reconstruction
Minor releases typically don't include new features, but Neurolucida 360 isn't an ordinary piece of software. Neurolucida 360 v2.7 has many new features and improvements, including:
A new automatic tracing algorithm – Rayburst Crawl
Capture videos of your rotating neuron reconstructions for presentations and publications
New backbone length analysis for dendritic spines
Improved handling of images exceeding 10GB
With the addition of Rayburst Crawl, Neurolucida 360 now has 3 different algorithms for automatic neuron reconstruction. Why 3 algorithms? To give you the power to choose the one that works best with your images. Labeling specificity, staining intensity, and image signal-to-noise can vary widely within a specimen – making it impossible for a single tracing algorithm to work optimally in all situations.
If you want more control over your neuron reconstructions, the same 3 algorithms can be used in user-guided mode. You follow a dendritic branch or axon with your mouse cursor, and the algorithm finds the center and thickness of the process. It combines the unrivaled human ability to identify and segment objects with the speed of a computer.
Try it for yourself. Request a demonstration