MBF Bioscience Supports the 4th Vermont Brain Bee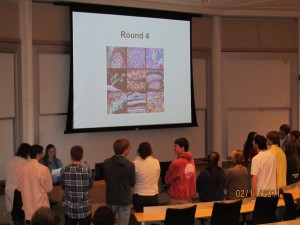 Thirty-six high school students passionate about neuroscience will be competing at the 4th annual Vermont Brain Bee on February 9th, 2013 at the University of Vermont College of Medicine. Participants will be asked questions about a wide variety of topics: anatomy and development, learning and memory, stress, types of research, neurogenerative disorders, etc. They will also get the opportunity to engage in neuroscience activities and to meet with neuroscience faculty and graduate students. The winner will then compete in the National Brain Bee, an event that takes place in March during Brain Awareness Week.
Participation in the Vermont Brain Bee is on the rise thanks to the burgeoning of neuroscience clubs in Vermont high schools thanks to a grant from the Vermont Community Foundation. Brain injury survivor Lisa Bernardin has been instrumental in promoting the creation of these clubs;  she's been giving talks about her experience and involved neuroscience undergraduate students in her presentations in an effort to better engage the high school audience.
We are proud to renew our support for this event since we, along with the Brain Bee's organizers, believe that inspiring young people to engage in careers contributing to neuroscience is imperative.
The Vermont Brain Bee is coordinated by Bernardin with the support of UVM faculty and the Vermont Chapter of the Society for Neuroscience .
Find more information about the 2013 event here and watch WCAX .