University of Kansas Researchers use Stereo Investigator to Map Fetal Brain Hypoxia Sites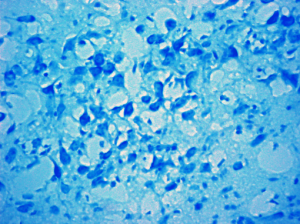 Long before a newborn baby takes its first breath, oxygen plays an integral role in its development. Oxygen-rich blood fed through the placenta facilitates the growth of a healthy fetus, powering cells to form organs and biological systems so that a healthy human emerges after nine months in utero.
However, when a fetus doesn't receive enough oxygen, birth defects such as cerebral palsy can occur. Scientists at the University of Kansas Medical Center are researching perinatal brain injury. In one recent study, published in the American Journal of Obstetrics and Gynecology, the researchers determined that chronic hypoxia, a condition where the body is deprived of oxygen, causes selective brain injury as opposed to global, in a developing fetus. They also determined that the injury is associated with altered nitric oxide synthases, the enzymes that produce nitric oxide—key cell-signaling molecules in mammals, which contribute to the development of the nervous system.
Led by Dr. Yafeng Dong, the researchers examined the fetal brains of guinea pigs. Two third of the animals developed in an environment with low levels of oxygen. To test the role of inducible nitric oxide synthase (iNOS), half of this group received L-N6-(1-Iminoethyl)-lysine (L-NIL)—a selective pharmacologic inhibitor of iNOS—in their drinking water. The remaining third, the control group, developed in normal room air.
Brain sections were examined with 3,3'-diaminobenzidine–based immunostaining, multilabeled fluorescence immunostaining, terminal deoxynucleotidyl transferase dUTP nick end labeling (TUNEL) staining, Nissl staining, and laser capture microdissection (LCM). Stereo Investigator helped quantify neuronal density in the Nissl stained sections.
Researchers used the resulting data to create a unique map showing the sites of injury in the cerebral cortex, hippocampus, and thalamic and hypothalamic nuclei. "In the present study, we map for the first time the geography of fetal brain injury that results from chronic fetal hypoxia and reveal specific injury to neuronal and glial cells at locations that are analogous to those reported in children with CP. This map provides a reference point for the future study of chronic hypoxia-induced fetal brain injury and the impact of therapeutic interventions to ameliorate or prevent the injury," the authors said in their paper.
Read the free abstract, or download the full article "Chronic fetal hypoxia produces selective brain injury associated with altered nitric oxide synthases" at www.ajog.org.
Yafeng Dong, Zhiyong Yu, Yan Sun, Hui Zhou, Josh Stites, Katherine Newell, Carl P. Weiner, Chronic fetal hypoxia produces selective brain injury associated with altered nitric oxide synthases. Am J Obstet Gynecol 2011;204:254.e16-28.
{Image of the hippocampus of a fetal guinea pig brain from the control group courtesy of The University of Kansas Medical Center}